Grab your Discounted Firework Essential Oil Diffuser While the Shop at Mags 50% Off Sale is Still On!

         SHIPS DIRECT FROM OUR USA WAREHOUSE

Enjoy the calm and soothing vibes from this beautifully-designed Firework Essential Oil Diffuser.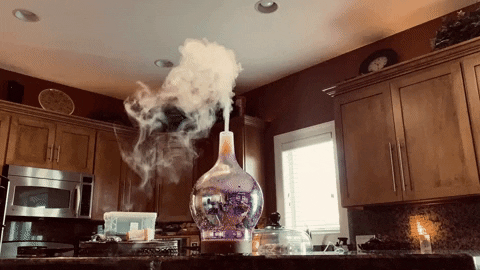 Our Firework Essential Oil Diffuser looks like a frozen firework, changing an array of colors as its LED lights shift through 6 colors providing hours of selfless relaxation.
It holds up to 1L of water that lasts 4-8 hours before Waterless Automatic Shut Off occurs, but you can set a 1-2hr timer. Feel free to add oils, and start with just a few drops. We definitely recommend peppermint, especially around winter time! 
Compact and smooth, the diffuser works in four ways: as a humidifier, purifier, night light and aromatherapy device. With its ultrasonic technology, the diffuser uses electronic frequencies to create vibrations in water.
These are carried to the surface to mate with the essential oils and create lovely therapeutic fragrances that fill the air. A wonderful way to purify the air and remove unwanted odors too. 
- Relaxing & Soothing For Better Sleep 😴 
- Easy To Clean 🧼
- High Quality Strong Mist Vaporizer 🌬️
- 3D Illuminating Glass Cover 💎
Essential Oils and Aromatherapy Diffusers have a variety of benefits including helping you sleep, elevating your mood, easing breathing, eliminating pain, helping with cognitive function, warding of illness, repelling inspects, and cleaning your home! Our Firework Essential Oil Diffuser is the perfect, natural relaxation treat. 
If the color changing feature is too bright and keeps you up at night, or is just too distracting to work next to, just press the LED Light Button on the right until you find your favorite color or completely turn off the light and let it run normally.
Description:
Material: ABS + glass + PP
Product size: 25*15.5CM
Packaging Includes:
1 x Firework Essential Oil Diffuser
1 x Charging cable
1 x Manual

This is a Shop at Mags™ Five Star Product
Low Stock Warning - only 3 left at this price. Grab your before we run out.
 ☑️  Tracking number for every order
 ☑️  Safe payments via Stripe® 
 ☑️  Friendly customer assistance support@shopatmags.com
 ☑️  Easy Refunds!
Free Shipping Worldwide:
Under the current conditions, US shipments are averaging 5-15 business days for delivery.