---
Rebalance Your Gut Bacteria
& Rid Your Liver of Unhealthy Toxins
This is a powerful way to give your gut a refresh and make your body better at flushing out toxins and free radicals. You'll notice less pain, more energy and fewer digestive issues after the first 3 days.
Your 3 Day Gut Health Reboot & 30 Day Challenge
I'm challenging you to kick off 2020 following my 3 day gut health program. I'm also challenging you to spend 30 days strengthening your liver & ridding your body of free radicals with 3 powerful sources of nutrition.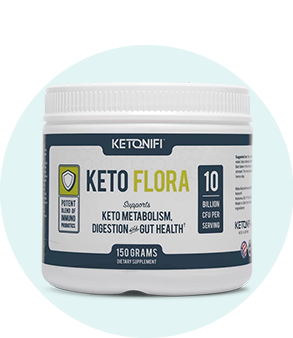 Keto Flora®
Naturally Enhanced Probiotics
$59 Value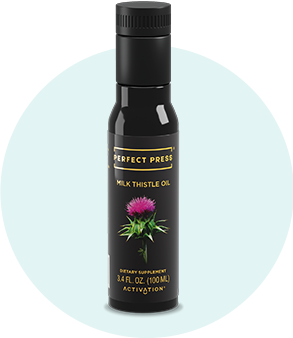 Perfect Press®
Milk Thistle Oil
A Powerful Liver Tonic
$49 Value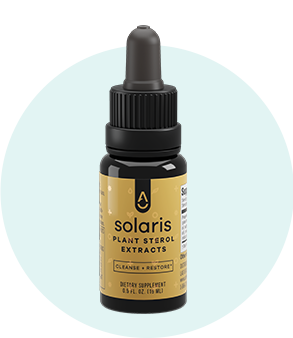 Solaris
A Blend of 4 Super Concentrated Oils
$69 Value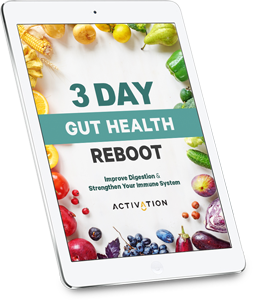 PLUS
My 3 Day
Gut Health Protocol
$10 Value
Just $99!
Early Access Only
WHY DETOX?
Here are just some of the benefits:

Boosting your energy in the morning

Waking up with better skin



Enjoying good liver health

Getting your diet under control


Rebalancing your gut flora

Ridding your body of unhealthy inflammation
Most of us tend to overdo it during the holidays. A detox can help put your body back in balance.
The first thing you'll notice when you start this detox is that your body will crave healthy foods instead of junk (which makes sticking to a healthy diet way easier in the new year).
This detox focuses primarily on rebalancing your gut bacteria, strengthening your liver, and ridding your body of free radicals.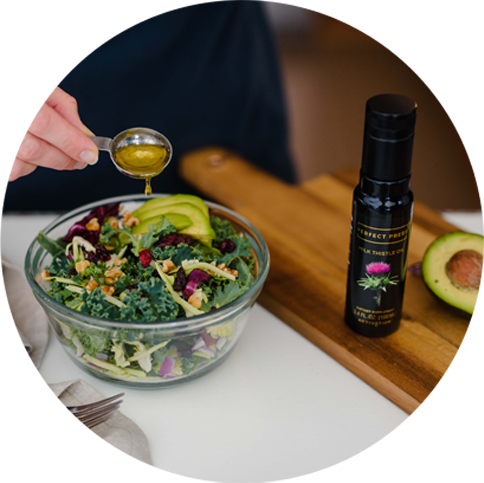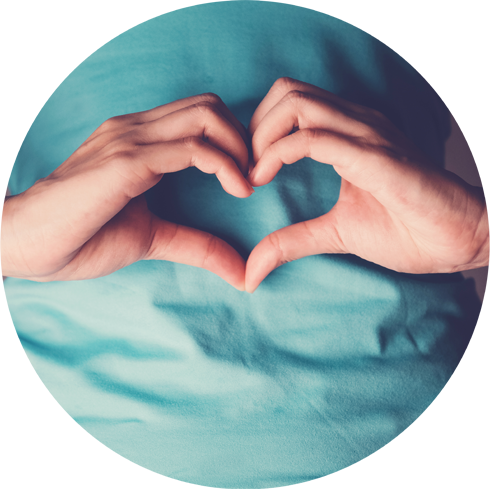 Many of your most unhealthy food cravings are caused by an excess of unhealthy candida, yeast and bacteria living in your gut.
Theses bad bacteria feed off of sugar and other carbs. They communicate with your brain forcing you to crave junk.
To stop your worst food urges and start enjoying optimal digestive health, you'll have to do a refresh on your gut and liver.
This is a great way to begin.
How to do the Detox Challenge
It's easy!
Detoxing is your liver and gut's main job. Using this kit and following my protocol simply stimulates your organs with healthy foods and probiotics that promote bile production, good bacteria growth, blood cleansing, the metabolizing of chemicals and the flushing of free radicals from your body (things you want your liver to do really, really well).
STEP 1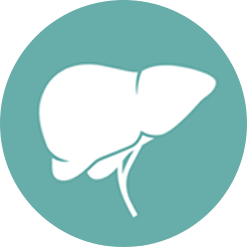 Nourish your liver & kidneys with milk thistle oil
One of the most intensely studied features of milk thistle is its ability to protect your liver and help it repair itself.
Strong liver health enhances the detoxification pathways in your body. And your liver is in charge of pulling out the toxins that are in your food, so if your liver fails all those toxins can end up in your gut. If your liver isn't healthy you could end up with a damaged stomach that is a breeding ground for bad bacteria. Milk thistle also promotes natural detoxification by supporting healthy kidney function.
STEP 2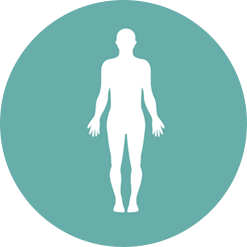 Rid your body of unhealthy cells, yeast & pathogens
Solaris is a destructive force against free radicals. It scopes out abnormal cells and free radicals in your body and destroys them.
This powerful blend combines super potent versions of Thyme, Rosemary, Plant-Based Eugenol, Peppermint & Clove Oil into one perfect blend.
They compliment each other perfectly to fight these unstable, reactive molecules in every part of your body. Shutting them down before they can cause serious damage. It's this unique benefit that makes Solaris so powerful for restoring health to areas of your body that have been ravaged.
STEP 3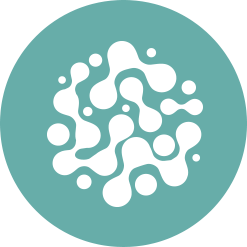 Rebalance your stomach with probiotics
This contains everything you need to restore your gut health and support the repopulation of beneficial bacteria. The formula includes a patented gut-health ingredient, called IgY Max™ that targets non-beneficial or "bad" bacteria in the digestive tract to combat gut imbalance at its source.
It also contains 9 probiotics that boost liver health, nutrient absorption & fat metabolism.
Once the health of your intestinal lining (gut wall) is restored, it's ready to be repopulated with precise probiotic strains especially critical for gut balance.
Take them all for 30 days…
PLUS
Kick Your Detox Off with the
3 Day Gut Health Program
When you decide to start your detox, follow the simple recipes and tips in this protocol for 3 days & watch your cravings disappear! You'll get a better idea of how to use all the products in your kit and speed up your results.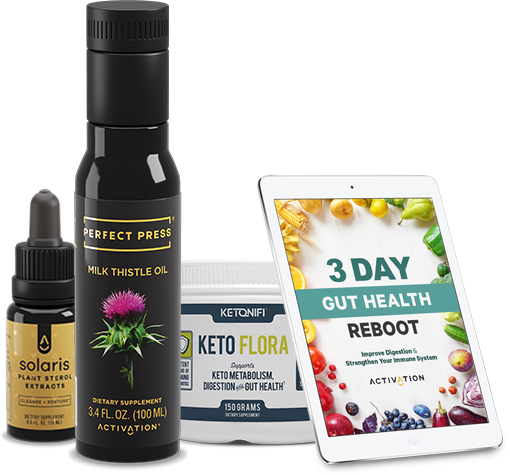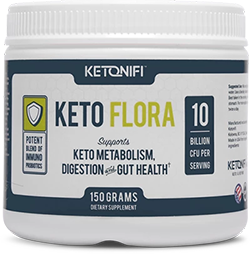 Keto Flora

A super blend of 9 probiotics and a patented gut health ingredient derived from whole eggs — IgY Max™

Boosts your bowel function by promoting growth of beneficial stomach bacteria

Experience targeted immune protection against 26 human-relevant "bad" bacteria

Creates a healthy space in your microbiome for good bacteria to grow

Supplements your immune system with the good bacteria it needs to fight pathogens

Better regulates the release of inflammation in your gut

Solaris

Combines super potent versions of Thyme, Rosemary, Plant-Based Eugenol, Peppermint & Clove Oil

Reacts with the unhealthy proteins in mutated cells

Protects healthy cells while deporting unhealthy cells AND bad bugs from your body

Stops free radicals from spreading within the gut

Clears the way for healthy cells to repopulate your liver and gut

Milk Thistle Oil

Pressed from thousands of organic milk thistle seeds

Supports healthy liver function

Naturally protects skin from U.V. damage

Promotes youthful looking and feeling skin

One of nature's most well-researched health boosters
The 3 Day Gut Health Reboot
A brief digital guide that helps you learn when and how to take your supplements. My best advice for encouraging your good bacteria to heal your gut. Includes a simple 3 day healthy eating protocol for your liver and digestion (with recipes) that will jumpstart your detox.
Grab the 30 Day Detox Kit Now:
(Available This Week Only)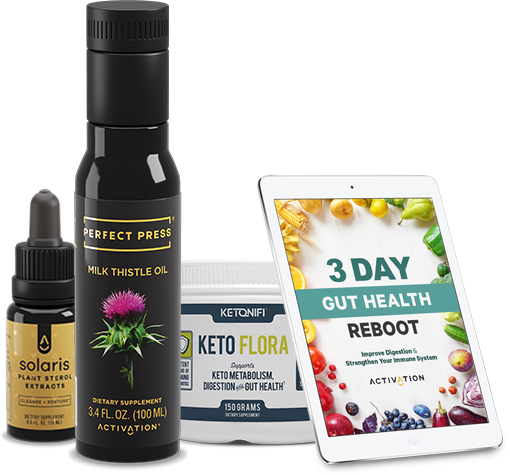 30 Day Stomach
& Liver Detox Kit
1 Milk Thistle, 1 Keto Flora
1 Solaris + 1 Digital Guide
Save $88!
$187 $99
Limit: One Per Customer
 ADD TO CART
Do You Have Questions?
Call our friendly customer care team for answers.
1-866-271-7595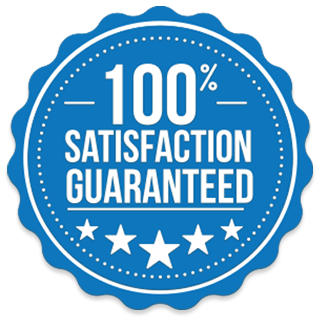 TAKE THE CHALLENGE!
If you don't feel amazing after 30 days, we will send you your money back.
100% Customer Satisfaction Guarantee.
FREQUENTLY ASKED QUESTIONS

What ingredients are in Solaris?
This powerful blend combines super potent oils from Thyme, Rosemary, Plant-Based Eugenol, Peppermint, Clove Oil.
Solaris does not contain artificial sweeteners or any unnatural ingredients. This blend is safe to eat on any diet.

What ingredients are in Milk Thistle?

What are the ingredients in Keto Flora?